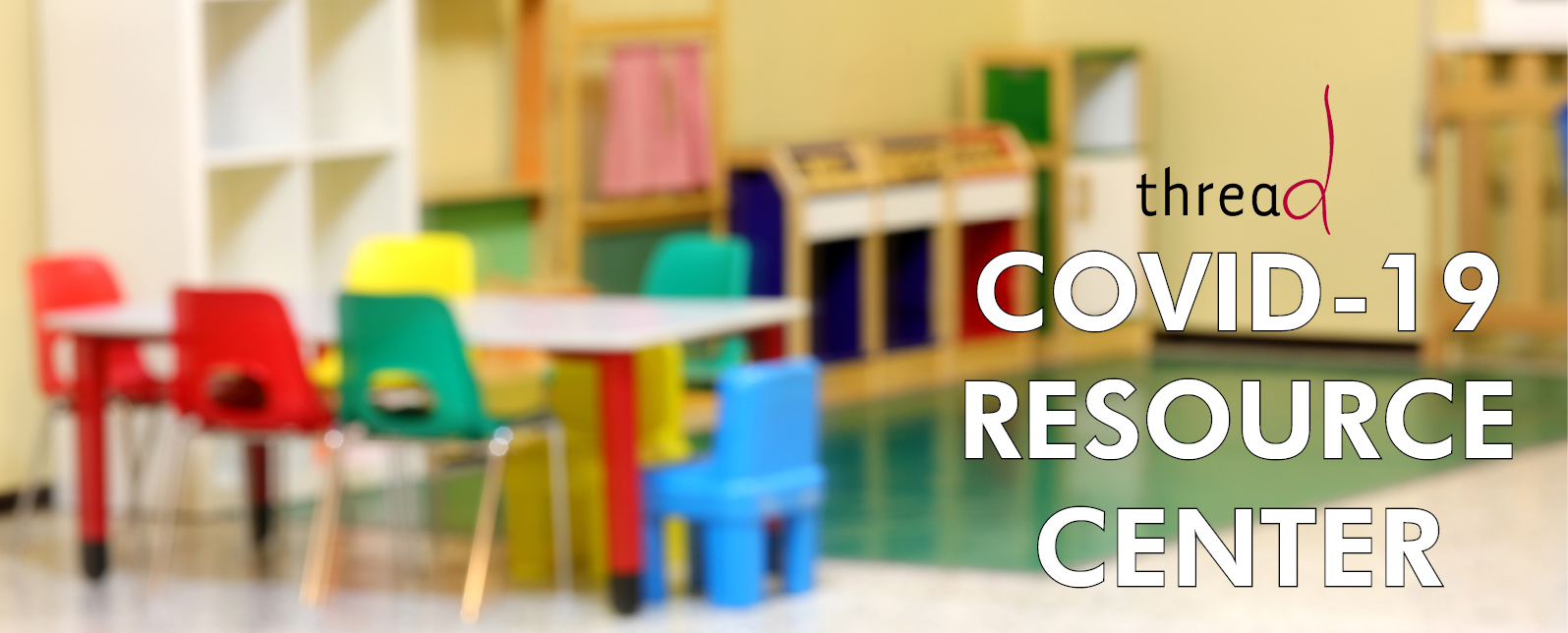 Resources for Child Care Programs & Early Educators
As the coronavirus (COVID-19) crisis grows in Alaska and worldwide, we want you to know that we are here for you, Alaska's early childhood educators and programs. Below are some resources and updates to support you during these uncertain times.
What's Happening Now
---
Business Management
Planning to Open/ Close
The following resources are available for programs deciding to remain open or close:
State of Alaska & Municipality of Anchorage – Licensing & Regulations
Questions about State of Alaska and Municipality of Anchorage licensing and regulations can be directed to:
State of Alaska Child Care Program Office (CCPO) and Child Care Licensing
Child Care Assistance
Municipality of Anchorage
Legal Resources
The following legal resources are available for early educators and programs for consideration:
Businesses
Alaska Free Legal Answers (Q&A): Attorneys answer written questions on civil matters for low-income Alaskans. Read more.
Alaska Courts Self-Help: Resources for representing yourself and your business in court, including debt collection, delinquency and small claims. Read more.
Individuals
Alaska's Emergency Rental Assistance (Alaska Housing Finance Corporation) — The application period for Alaska Housing Rent Relief closed on October 1, 2021.
Alaska Legal Services Corporation: Legal assistance for low-income Alaskans in civil matters, including consumer, family, housing, public benefits, healthcare, and Alaska Native, senior, and veteran issues. Read more.

Alaska Law Help: Guide to self-help and free and low-cost civil legal resources for low-income and senior Alaskans. Topics include COVID-19, family, domestic violence, money problems, housing, seniors, life planning, health care/public benefits, Alaska Native, victims rights, and tribal courts. Read more.
Landlord/Tenant Hotline: Tuesdays and Thursdays from 6 to 8pm (AKST)

Anchorage: 907-743-1000
Statewide: 855-743-1001

COVID-19 Hotline: Statewide: 844-263-1849

ANDVSA: Legal assistance for survivors of domestic violence and sexual assault. Read more.
Alaska Institute for Justice: Human rights protection, in particular for immigrants, refugees, and Alaska Native communities. Read more.
Disability Law Center: Social Security Disability Insurance applications; disability-related employment discrimination; Medicaid/Medicare appeals; special education access; access to voting; and mask policy exemptions. Read more.
Alaska Courts Self-Help: Resources for representing yourself in court; includes family law, domestic violence, debt collection, delinquency, housing, probate, small claims, and traffic cases. Read more.
---
COVID-19 Vaccine Info
State of Alaska
All Alaskans 5 and older are eligible to receive the COVID-19 vaccine.
Vaccinations Near You
Benefits of the COVID-19 Vaccine
---
Personal Protective Equipment (PPE) & Supplies
The following resources are available for programs:
Personal Protective Equipment (PPE)

State of Alaska Department of Health & Social Services
Rasmuson Foundation
Rapid Response

How to Access and Pay for COVID-19 Supplies: Child Care Aware of America's latest guidance on clean and safe child care.
Food Supply: U.S. Foods can help provide food for child care programs still operating. Learn more.
---
Professional Development
thread's statewide offices are physically closed, but we are open for business and providing professional development opportunities through distance delivery.
Training — thread's trainings are FREE through June 2022 and will be delivered via Zoom. Visit thread's training calendar for updates.
On-site Services — Training and/or technical assistance will be available through distance delivery methods as possible. Please contact your Professional Development Specialist for more information.
Travel Reimbursements — thread is discouraging early educator travel during this time. If you have a pending Alaska SEED travel request/reimbursement, please contact Alaska SEED by calling 907.265.3194 or email to discuss your specific needs.
Recorded Workshops
Thursdays with thread
Alaska's Child Care Workforce Bill with Special Guest Rep. Zack Fields. Watch it now.
What Early Educators Need to Know About the COVID-19 Vaccine. Watch it now.
Federal Financial Assistance Round 2. Watch it now.
What Are the Needs of Child Care Programs in Alaska Now? Watch it now.
Can Insurance Cover You during the COVID-19 Pandemic? Watch it now.
Legal Considerations for Child Care Programs during COVID-19. Watch it now.
Licensing, Child Care Assistance, COVID-19 Mandates — and Your Business! Watch it now.
COVID-19 Resources for Alaskan Businesses with Jon Bitner from the Alaska Small Business Development Center (SBDC). Watch it now.
Health Guidance for Child Care During COVID-19 with Dr. Elizabeth Ohlsen. Watch it now.
Child Care Aware of America
---
More Resources
Resources to Stay Safe & Healthy
Prevention means staying vigilant about hand hygiene and keeping a close eye on children and staff who are showing signs of illness. These resources provide you with tips for keeping children and staff healthy:
Supporting Children & Families
---
Tell Us Your Story
thread wants to hear from you about how COVID-19 is affecting your family. Share your story.