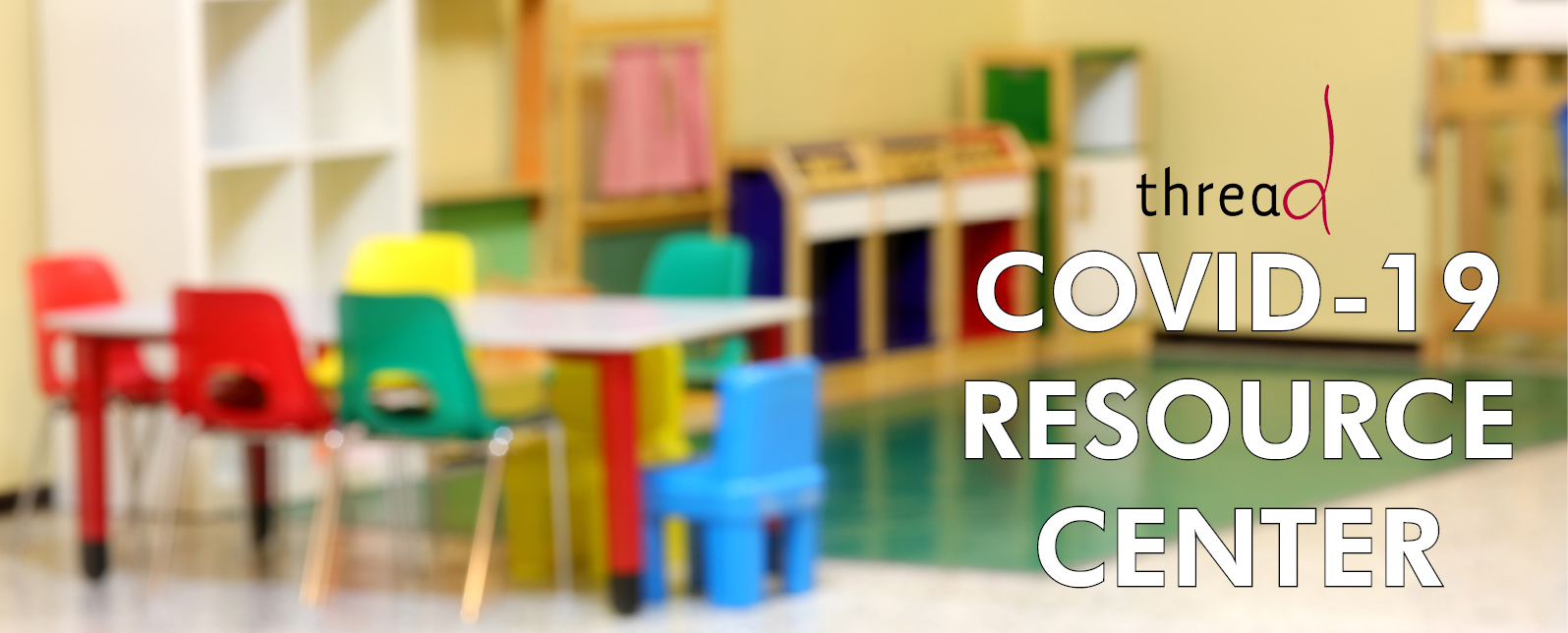 Resources for Child Care Programs & Early Educators
As the coronavirus (COVID-19) crisis grows in Alaska and worldwide, we want you to know that we are here for you, Alaska's early childhood educators and programs. Below are some resources and updates to support you during these uncertain times.
What's Happening Now
---
Business Management
Planning to Open/ Close
The following resources are available for programs deciding to remain open or close:
State of Alaska & Municipality of Anchorage – Licensing & Regulations
Questions about State of Alaska and Municipality of Anchorage licensing and regulations can be directed to:
State of Alaska Child Care Program Office (CCPO) and Child Care Licensing
Child Care Assistance
Municipality of Anchorage
Legal Resources
The following legal resources are available for early educators and programs for consideration:
Businesses
Alaska Free Legal Answers (Q&A): Attorneys answer written questions on civil matters for low-income Alaskans. Read more.
Alaska Courts Self-Help: Resources for representing yourself and your business in court, including debt collection, delinquency and small claims. Read more.
Individuals
---
COVID-19 Vaccine Info
State of Alaska
All Alaskans 16 and over are eligible to receive the COVID-19 vaccine.
Vaccine Resources
Vaccine Hotline (9 am to 6:30 pm, M-F) | 907.646.3322
National Vaccine Resources
---
Personal Protective Equipment (PPE) & Supplies
The following resources are available for programs:
Personal Protective Equipment (PPE)

State of Alaska Department of Health & Social Services
Rasmuson Foundation
Edel Weiss
Rapid Response

How to Access and Pay for COVID-19 Supplies: Child Care Aware of America's latest guidance on clean and safe child care.
Food Supply: U.S. Foods can help provide food for child care programs still operating. Learn more.
---
Professional Development
thread's statewide offices are physically closed, but we are open for business and providing professional development opportunities through distance delivery.
Training — thread's trainings are FREE through June 2022 and will be delivered via Zoom. Visit thread's training calendar for updates.
On-site Services — Training and/or technical assistance will be available through distance delivery methods as possible. Please contact your Professional Development Specialist for more information.
Travel Reimbursements — thread is discouraging early educator travel during this time. If you have a pending Alaska SEED travel request/reimbursement, please contact Alaska SEED by calling 907.265.3194 or email to discuss your specific needs.
Recorded Workshops
Thursdays with thread
Child Care Aware of America
---
More Resources
Resources to Stay Safe & Healthy
Prevention means staying vigilant about hand hygiene and keeping a close eye on children and staff who are showing signs of illness. These resources provide you with tips for keeping children and staff healthy:
Supporting Children & Families
---
Tell Us Your Story
thread wants to hear from you about how COVID-19 is affecting your family. Share your story.