Family-Friendly Workplace Tips
Are you ready to attract and retain strong, skilled employees?
Start by creating a family-friendly workplace. Studies show that employees miss fewer days of work and are more productive when they have access to affordable, high-quality early care and education services.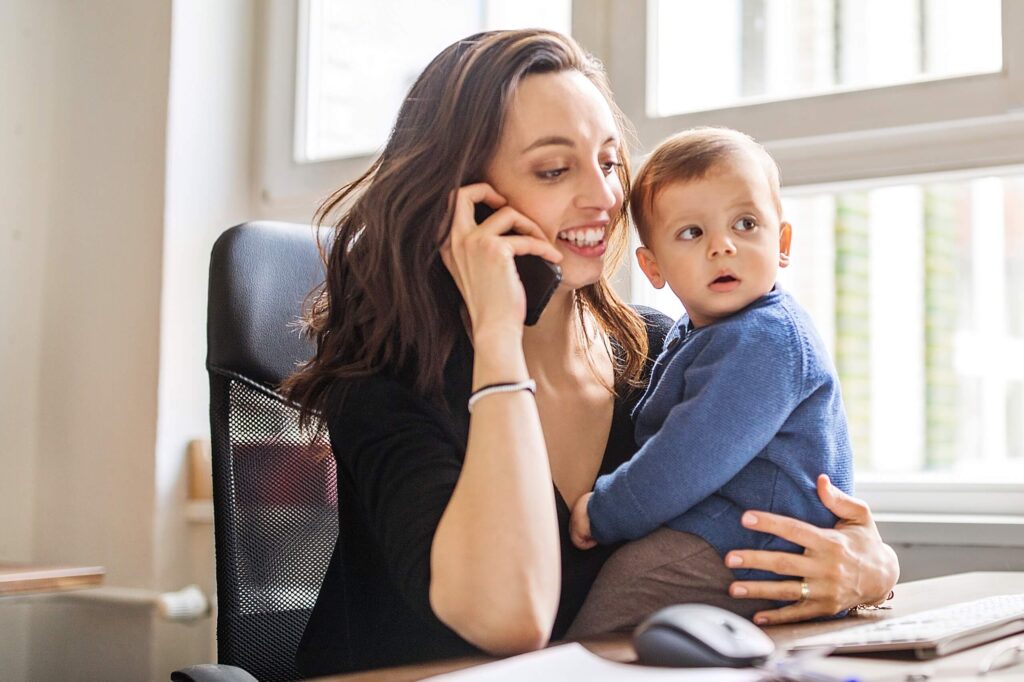 Supporting Employees
There are many creative ways to support employees with families, including:
Connecting employees with information and resources about parenting, early childhood education options, or financial supports
Providing mothers with a clean, private area to pump and store breast milk
Implementing policies such as flexible work arrangements, paid family leave, or dependent care reimbursement plans
Supporting a local early care childhood education program in exchange for priority enrollment/reduced fees for your employees
Family-Friendly Workplace Checklist
Use the list below to think about which options already exist at your business, potential options, and options with which thread could help.
Information & Resources
| Option | Description |
| --- | --- |
| Child Care Resource & Referral Services | Provide a list of child care options and programs in the community by zip code |
| Parenting Seminars | Host informational meetings/brown bag lunches on parenting issues and child care concerns |
| Family Fairs/Special Events | Promote seminars for child care and family development events |
| Employee Rideshare Co-op | A program for employees living in similar geographic areas to coordinate ride sharing to and from child care |
Employer Policies
| Option | Description |
| --- | --- |
| Dependent Care Reimbursement Plans | Provide an option for employees to receive pre-tax savings through a child care account |
| Flexible Work Arrangements | Compressed work week, flexible hours, telecommuting |
| Reduction of Work Time | Regular part-time, job sharing |
| Leave Benefits (Beyond FMLA) | Birth or adoption (maternity & paternity), family, funeral, medical, sick |
| Active Promotion of Benefits | Employees are aware of family friendly programs |
Direct Services/Support for Employees
Option
Description
Sponsor Near or On-site Child Care Center(s)
A center owned and operated by the company, or owned by the company and managed by a third
party, primarily for the employees of the sponsoring company
Create or Support a Network of Home Child Care Facilities
Support in home care facilities to provide preferential slots to employees — particularly helpful to companies with employees working
evenings or weekends
Create or Support Child Care Cooperative
Work with neighboring companies to create a child care co-op providing preference to co-op
company employees
Financial Support — Employers
| Options | Description |
| --- | --- |
| Vouchers | Pay a portion of child care expenses as part of employee benefit package |
| Discounts | Arrange for employees to be charged a reduced rate at programs of the employer's choosing |
Financial Support — Community
Options
Description
In Kind Contributions
Support a specific child care agency through the donation of surplus materials
Corporate Funds
A corporate set-aside for grants to local child care centers agreeing to provide access to employees (not philanthropic dollars)
Corporate Contributions
Fund organizations to generally improve the supply or quality of child care at the local, state, or national level
Support a Local Child
Care Center
Through grant or contract, child care centers may accept funds from a company or a group of
companies (as in a consortium arrangement) in exchange for priority enrollment/reduced fees for employees of the contributing companies