Alaska's early childhood education system is facing serious challenges in the wake of the coronavirus (COVID-19) pandemic. Since the pandemic began, child care programs have been open to support families and children. These programs are struggling to stay afloat. Alaska is at risk of losing this essential service without further addressing the needs of the child care system.
Factors Challenging the Child Care System
The business of child care has been interrupted by the pandemic. The demand for child care is fluctuating as families grapple with returning to the workplace and school safely. Without steady enrollment, child care programs are faced with uncertain or reduced income revenue and growing expenses to stay open and operate safely.
Specifically, programs are navigating:
Elevated health and safety requirements: Child care programs must enforce an intensified level of health and safety protocols and procedures for ongoing mitigation, screening, and sanitation. This requires more supplies, staff time, and training, and increases operating costs.
Physical distancing: Child care must support physical distancing within the program, which results in smaller group sizes.
Supplies: Child care programs need cleaning and disinfecting supplies and equipment, personal protective equipment (PPE), screening equipment, and sanitizing solutions to protect the staff and children they serve.
Labor: The demands on the early childhood workforce are increasing with new group sizes, health and safety protocols, and the health risks. Programs are offering higher compensation and flexibility to support staff. Additionally, some early educators are not returning to the classroom due to the health risk which is leaving vacant positions.
Behavioral Health: Child care programs need access to early childhood mental health consultation and other behavioral health supports and services to support children, families and staff experiencing trauma during this time.
All of these factors are challenging child care's survival.
Assessing the Need
In June 2020, thread conducted a phone survey with 304 licensed child care programs across the state to learn more about these challenges and what is needed to ensure the system survives. (Alaska has more than 500 licensed/regulated child care programs, child care centers, family child care, school-age, and Head Start programs.)
KEY FINDINGS FROM CONVERSATIONS
Child care programs, early educators, and families are deeply concerned about the health risks associated with operating during a pandemic.
The pandemic has brought new financial challenges for child care programs.
Decreased capacity (due to new group sizes), reduced income, and increased costs (from safe and health mandates) are disrupting an already financially unstable system.
Open programs want to stay open, but 61% report needing additional funding to do so.
Data Highlights
This data snapshot highlights the key findings from thread's survey conversations.The results show a need for continued financial investment to ensure Alaska's child care system does not collapse.
Open/Closed Child Care Programs
IN JUNE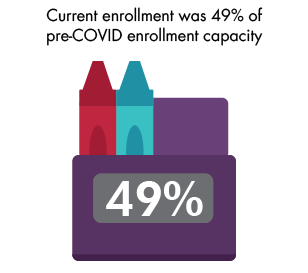 LOOKING AHEAD
97% of open programs anticipated remaining open for now
54% of temporarily closed programs anticipated needing additional funding in order to re-open in the next three months
---
Funding
IN JUNE
LOOKING AHEAD
Open Programs:
61% indicated they need additional funding to stay open
Average amount needed for next three months: $39,000
Additional funding is needed for:

97% pay bills: rent, utilities, etc.
85% buy supplies: food/milk, PPE, cleaning & sanitation
72% pay staff: salaries, benefits, etc.
Temporarily Closed Programs:
Average amount needed for the next three months to open: $22,000
---
Capacity (# of Child Care Spaces Available)
IN JUNE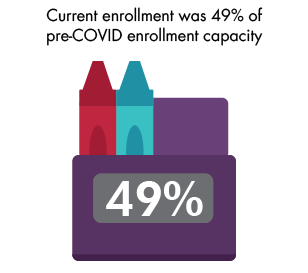 LOOKING AHEAD
Open Programs:
66% of programs will need additional enrollment to stay open
---
Access to PPE & Supplies
IN JUNE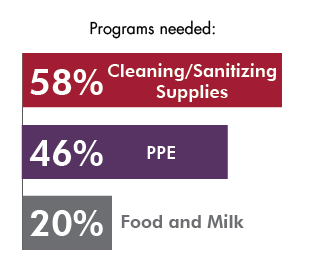 LOOKING AHEAD
Open Programs:
55% of programs will need food and supplies
---
Child Care Staffing
IN JUNE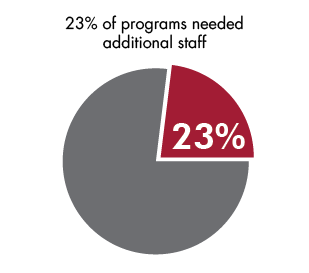 LOOKING AHEAD
35% of programs will need (more) qualified staff to stay open
---
Desired Impact
With continued financial investment Alaska can ensure the survival of the current child care system. This critical infrastructure provides our communities with the benefits of the licensed care needed and desired by children, families and employers.
For Child Care Programs
Business resilience and program stabilization
Operating safely and effectively
Support for social and behavioral health needs of staff and children
For Families
Return to their workplace
Reduced cognitive load trying to figure out child care
Reduced stress about their children in unstable child care arrangements
For Children
Safe, healthy, learning and loved
More predictable routines, which adds resiliency during traumatic times
School readiness
For Employers
Increased availability of workers
Reduced absenteeism
Higher productivity due to less distractions from trying to solve child care struggles
For Community
Reduced coronavirus transmission within child care
Families and businesses contributing to the economy