thread is partnering with the Alaska Small Business Development Center (SBDC) to bring child care programs 15 free webinars to strengthen business practices. These webinars provide up-to-date information for managing your program's financial, legal, and marketing practices.
The Alaska SBDC has over 35 years of experience helping small businesses grow by providing online resources and business management expertise. thread and the Alaska SBDC selected these pre-recorded webinars specifically for child care businesses and are making them available for free for a limited time.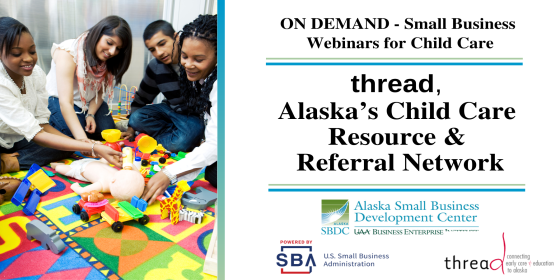 After creating an account with the Alaska SBDC, you will have access to these pre-recorded webinars through February 28, 2024 to watch at your own pace. Start investing in your business today by developing new skills or improving current ones!