Elevating Quality
As providers, advocates, parents, and guardians of children in Alaska, we care about the quality of child care available. To parents, high-quality child care is vital for their child's success. For programs, providing high-quality care is their goal. Learn & Grow, Alaska's Quality Recognition and Improvement System (QRIS), brings these needs together in a system designed to improve the quality of care and learning for children in their early developmental years.
With the goal to elevate quality in child care programs statewide, Learn & Grow, housed and managed by thread, is excited to announce a new Cohort learning model for programs. This dynamic learning model was explored in 2021-22 with some participating Learn & Grow programs. Due to its success, the Cohort model will be offered to all Learn & Grow programs in Fall 2022.
"The longer we are in Learn & Grow, the more positive outcomes we see in our family engagement and student support."

Learn & Grow participant working on Level 3
Internal Growth & Advancement
Part of Learn & Grow's internal quality improvement is looking for ways to improve the level of support provided to programs. In 2021-22, Learn & Grow explored the Cohort model to provide program administrators with a way to connect with each other. One major benefit of peer-to-peer learning is the collaboration amongst professionals. Adding peer-to-peer learning to the existing supports and resources (training, 1:1 coaching, etc.) already offered by Learn & Grow rounds out the services provided.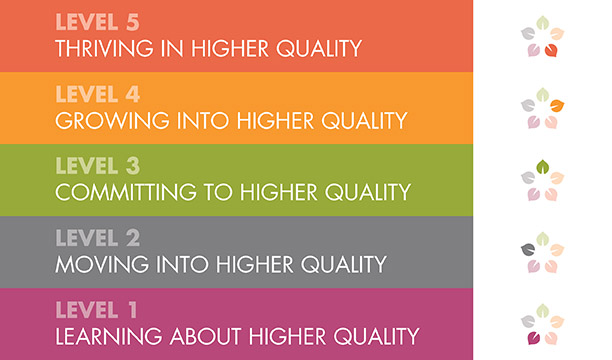 Programs participating in Learn & Grow work through five levels of quality activities, beginning with Level 1 and moving up from there. Currently, programs can achieve Level 1 and 2, and Level 3 achievement is in progress. Since the establishment of Learn & Grow in 2016, participating programs have worked on the quality activities with support from thread Specialists or independently.
"It has lead me to be much more proactive in completing one of my main CQIP goals which is acquiring my CDA. I think it was a great experience and I would recommend it to other programs participating in Learn & Grow."

Learn & Grow cohort pilot participant working on Level 2
Highlights from a Successful Pilot Year
As part of the pilot cohort, program administrators hosted 4 working on Level 1 cohorts; 4 working on Level 2 cohorts; and 1 working on Level 3 cohort sessions with their peers. These sessions were facilitated by a thread Specialist. During each of the sessions, the cohort discussed best practices, shared ideas, worked on their quality activities, and more.
For program administrators in Learn & Grow, continual interaction with like-minded professionals also working towards the next level of quality, provided dynamic, supplemental support and encouragement in real-time. And the results showed it!
At the end of the cohort:
44 programs achieved either Level 1 or Level 2, many were cohort participants
14 programs completed the Level 3 cohort
62% of cohort participants felt more belonging to the child care industry
100% of participating administrators recommended joining a cohort to other programs
The cohort model, 1:1 admin support, and training were reported as the most beneficial components of Learn & Grow
Based on these results, all participating Learn & Grow programs will have the opportunity to join a cohort beginning in Fall 2022.
Learn & Grow Enrollment
For programs interested in enrolling in Learn & Grow or want more information about the Cohort model, call 907.265.3105, or toll free at 800.278.3723, or email info@aklearnandgrow.org.