It's been a challenging year for families navigating the pandemic. This June, thread sent direct support to 98 Alaskan families through the delivery of social-emotional kits. The kits contained toys, books and activities to help young children and their families tune into emotions and learn important social skills. The project was funded by the Governor's Emergency Education Relief Fund through the State of Alaska Department of Education and Early Development (DEED).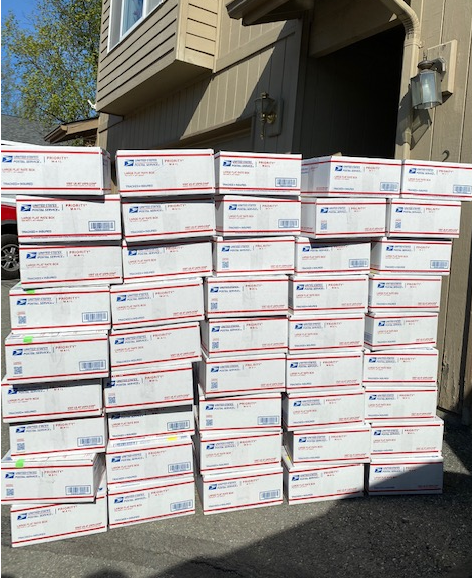 "I'm currently in a graduate program for social work, and am very aware how important parenting resources can be," said one parent who received a package. "This box can open a world of healthy family dynamics and coping strategies for Alaskan youth who may not have access to these items, or even the ideas behind them. I'm just so excited about this project, and so grateful for all thread has done."
thread's Family Services team assembled the social-emotional kits with activities geared for the ages of their recipients, from infants to school-age children as well as families with children of mixed ages. Each kit contained about $100 worth of materials, including items such as sensory activities, breathing exercise balls, liquid timers, mindfulness games, conversation cards, and books about feelings.
Families who received kits were clients of thread's free child care referral service or the State of Alaska Child Care Assistance Program, or who had interacted with thread staff through various family events. Many expressed their appreciation to receive the social-emotional development kits.
"These kits are amazing and we were so honored to have gotten one," one parent said. "We loved everything in them and it couldn't have come at better time. Thank you so much!"
The kits are designed for participation by the entire family.
"My daughter's family was the recipient of one of the thread Family Connection Kits," said Nikki Love, a staff member of Southeast Alaska Association for the Education of Young Children. "When the book by Brene Brown was discovered, my husband piped up and declared what a wonderful book it is, how Brene Brown speaks about the power of vulnerability and how learning about it creates stronger relationships with oneself and others. He encouraged our son-in-law especially to read it, as he says men often struggle with vulnerability. It was a wonderful moment of male support."
For more tips on social emotional development in young children, check out these resources: