We Love Your Spirit, Rain or Shine
Early childhood educators play a vital role in the healthy development of our young children, providing essential support to Alaska's working families.
On Friday, May 8, thread is celebrating Provider Appreciation Day, a special day to recognize and thank these professionals statewide.
Recognizing early educators takes on a more profound meaning this year due to the COVID-19 pandemic. Early childhood education programs have been on the
frontlines caring for the children of our essential workers. They have been making difficult decisions about whether to remain open or close their
doors, keeping informed on rapidly changing protocols to keep children healthy, dealing with financial uncertainty, navigating financial relief programs
and much more. Despite the challenges, early educators continue to take steps to do what is best for children and families. These professionals are
among this country's unsung heroes. Help celebrate their spirit, rain or shine!
Ways to Say "Thank You"
Say "thank you" on our gratitude wall below! 
From May 4 to 8, use the materials in the below Thank You Toolkit in your social media posts, along with the hashtags: #ProviderAppreciationDay
#ThanksEarlyEducators
Have children draw pictures, take a photo of them, then text or email to their early educators.
Video chat with your early educator and say "thank you" face-to-face.
Get more ideas here.
Please tell families, businesses, organizations and others about this important occasion and share the tips above as examples of ways to show gratitude
to Alaska's early childhood educators on May 8.
---
Gratitude Wall
Thank your early childhood educator on our gratitude wall! Click the image below to leave your written message, photo, video or recording!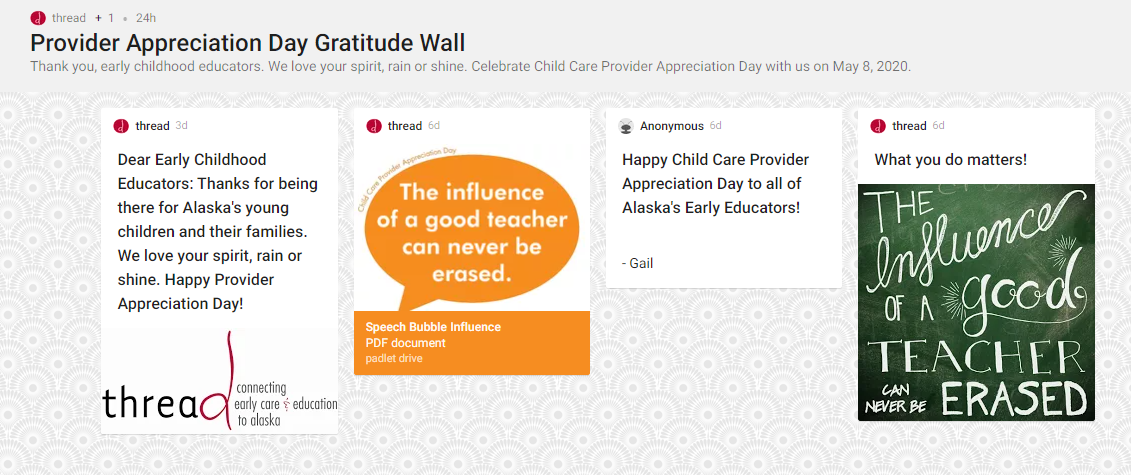 ---
Thank You Toolkit
We hope that you enjoy and share these ideas on social media to honor child care providers on May 8!
From thread:
Thought Bubbles: Print out and share! [PDFs]
From Child Care Aware of America: