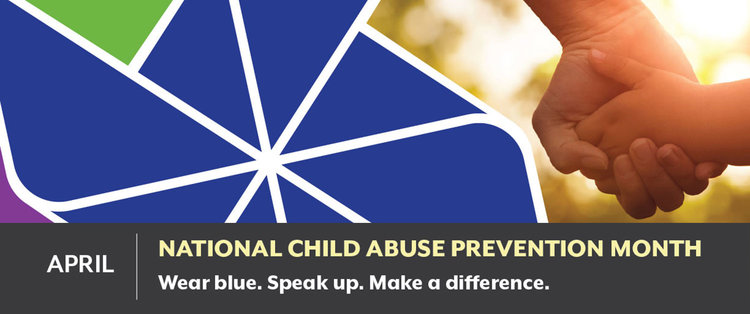 April is National Child Abuse Prevention month, a nationwide
effort to raise public awareness about and take a stand against child abuse and neglect. 

In recognition of this special month, thread joins the Alaska Children's Trust in asking Alaskans to be that one who makes a difference in a child's life. When one person makes the decision to step into a child's life, they can
help prevent abuse or neglect, and make an impact in ways they could ever imagine.
And there's so many ways to get involved…mentoring, volunteering and more.
Go Blue!
Friday, April 5, is Go Blue Day! Dress in blue and plan to attend one of the Go Blue Day rallies around the state:
Strengthen Your Family
Families thrive when protective factors are robust in their lives and communities. thread promotes Strengthening Families™, a research-based strategy, in our work with families and child care programs. Strengthening Families
focuses on building healthy relationships with your child, and supporting a child's healthy development around five protective factors:
Parental Resilience
Social Connections
Knowledge of Parenting & Child Development
Concrete Support in Time of Need
Healthy Social & Emotional Development of Children
Learn more about the five protective factors!
Get Some Tips
For your family:
As a parent, block out 15 minutes a day to play one-on-one with your child — doing anything he or she wants.
Tell the children or youth in your life how much you care for them and appreciate them. All children deserve to have someone who is "crazy about them"
and loves them unconditionally.
Work with the kids in your life to explore their heritage and learn their family's story.
For friends and neighbors:
Compliment a father — someone you know or even someone in public — on something positive you see him do with his children. Dads contribute
uniquely to children's development.
Offer your time to baby-sit for the child of a friend, neighbor or family members.
Support parents looking for a job by offering your professional knowledge and experience in resume writing or preparing for a job interview. Financial
stability links directly with family stability and can have a big effect on the emotional well-being of caregivers and their children.
For your community:
Volunteer at or donate resources to a local preschool or daycare center.
Sponsor, volunteer at or participate at local events or nonprofits.
Take action on legislative issues that affect children and families. Call your elected representatives.
For more parenting tips and information on healthy child development, call thread toll free at 800.278.3723 to receive child development
information.
It's OK to ask for help if you need it. Call 2-1-1 from anywhere in Alaska to connect with community resources and assistance. 
Report Child Abuse

Care Enough to Call. If you see or suspect child abuse or neglect:
Call: 1-800-478-4444
Fax: 907-269-3939
Or in emergency situations, call 9-1-1.
For more information or training, visit www.ReportChildAbuse.alaska.gov.
We believe it takes a community to raise a child, and you don't have to be a parent to take steps to help keep children safe and healthy. Dare to be the
one!