Cindy Harrington Heart & Mind Award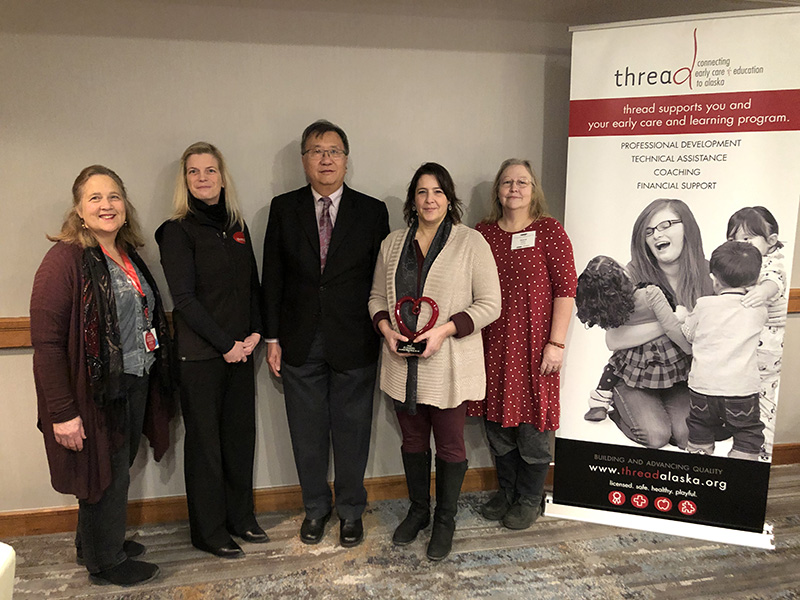 AnneMarie Mattaccione, M.ED of Fairbanks is the recipient of thread's 2020 Cindy Harrington Heart & Mind Award.
She received the award at a ceremony held during the Anchorage Association for the Education of Young Children (AAEYC) Conference at the Anchorage
Hilton on Feb. 7, 2020.
AnneMarie began her career as a preschool teacher at the Play N Learn Child Care Center in Fairbanks with a desire to work with young children and a love
for education.She has dedicated more than 30 years to the field of early childhood education, advancing from classroom teaching, to administration
in Head Start and Early Head Start programs, and eventually teaching at the college level. Today she is full-time faculty at the University of Alaska Fairbanks Community and Technical College.
She believes the health of young children is enhanced by a healthy family environment and is a mentor to local families.
AnneMarie is the sixth recipient of the annual Cindy Harrington Heart & Mind Award, an award that highlights an individual currently employed in the
field of early care and learning who exhibits strength of character, commitment to excellence, professional determination, and has an impassioned spirit.
Cindy Harrington was one of the founding mothers of early childhood work in Alaska, as well as a member of thread's board of directors
until her untimely passing in May of 2014. thread recognizes a professional in the field of early childhood education who embodies
the same heart and mind leadership style that the late Cindy Harrington portrayed throughout her career.
Quality Improvement Program(s) of the Year Award
There are two recipients of thread's 2020 Quality Improvement Program of the Year Award: Carousel Child Care Center in Anchorage and Denali Preschool and Learning Center in Healy. Administrators Sean Shawcross from Carousel Child Care Center
and Deena Cook from Denali Preschool Program received the awards. Through this award, thread is recognizing both centers for their
commitment to continuous quality improvement.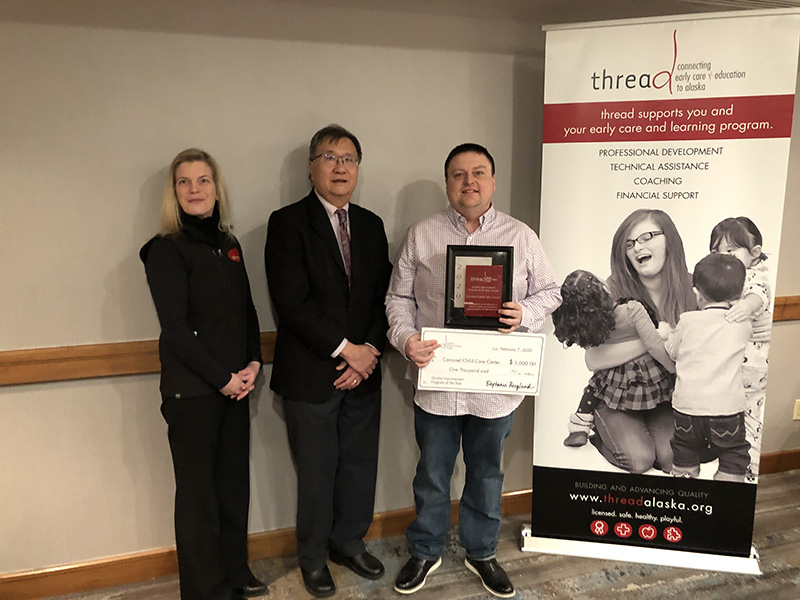 For 30 years,
Carousel Child Care Center
has served children and families in East Anchorage. This Learn & Grow program has intentionally planned and invested in its continuous quality
improvement activities year-round, including a focus on wellness and professional development for both the administrative and teaching staff. . The
focus on staff development has resulted in improved learning environments, more individual child support/skill building and increased parent engagement,
which involve a range of activities from holiday celebrations to hat and glove drives.
Denali Preschool and Learning Center
is the only licensed center serving Healy and the surrounding Denali Borough area. Administrator Deena Cook has exemplified herself as a supportive
and responsive leader, ensuring the program works to improve the quality of care through their active participation in Learn & Grow. Their quality
activities have focused on staff development (all staff are enrolled in Alaska SEED and either have obtained or are working on their CDA) as well as
building appropriate and responsive environments that are stimulating, engaging and intentional.

The families and children in both of these programs are acknowledging the results!
thread is proud to recognize AnneMarie, Carousel Child Care Center and Denali Preschool and Learning Center this year as thread promotes
access to high-quality early childhood education, and the professionalism of early educators in the state of Alaska. Learning doesn't start at kindergarten,
it begins at birth. That is why educators and programs that provide high-quality early childhood education services play such an important role in
the growth and development of young children. Congratulations to the recipients!
thread's awards program is supported by: