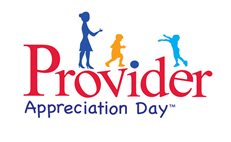 Early childhood educators play a vital role in the healthy development of your child. That's why thread is celebrating Child Care Provider
Appreciation Day by encouraging early educators to be healthy and take care of themselves.

Join thread in recognizing these professionals who help our children learn and grow every day. Say thank you with these ideas:
Give a gift certificate for a yoga class or a massage
Put together a wellness basket with fresh fruits, a water bottle, or other healthy gifts
Send flowers, cards, or a handwritten note of appreciation
Work with your child to create a special remembrance
Get together with other parents to create a surprise
Nominate an outstanding early educator for Provider of the Month
Buy something for your teacher's play area
Key in on your teacher's hobby and buy an appropriate gift
Check to see if your employer provides scholarships for toys, equipment or training that you can sponsor as a parent
Started in 1996 by a group of volunteers, Child Care Provider Appreciation Day has gained national momentum and support, and is celebrated each year on
the Friday before Mother's Day. Learn more here.