thread's Quality Improvement Program of the Year
thread launched this statewide award in 2017 to recognize an early childhood education program that has demonstrated a strong dedication to continuous quality improvement and has made exceptional progress in the past year through Learn & Grow, Alaska's Quality Recognition and Improvement System (QRIS).

Programs statewide will be nominated by industry experts in the fall. The award is presented to the recipient at the annual Anchorage Association for the Education of Young Children (AAEYC) Early Childhood Conference in Anchorage, Alaska.
---
2020 Quality Improvement Program of the Year Recipients: Carousel Child Care Center and Denali Preschool and Learning Center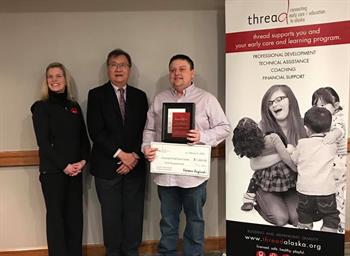 For 30 years Carousel Child Care Center has served low income children and families in Anchorage. This Learn & Grow program is intentionally planning and investing in its continuous quality improvement activities, including a focus on wellness and professional development for both the administrative and teaching staff. The focus on staff development has resulted in improved learning environments, more individual child support/skill building and increased parent engagement, involving families in a range of activities–from holiday celebrations to hat and glove drives. The program has also received funding to improve its building and is upgrading its learning environments to improve its quality of care.

(Pictured from left: thread COO Melinda Myers, thread Board President Sen Tan, and Carousel Child Care Center Administrator Sean Shawcross.)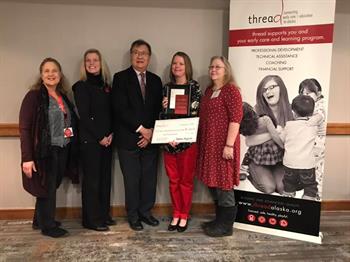 Denali Preschool and Learning Center is the only licensed center serving Healy and the surrounding Denali Borough area. Administrator Deena Cook has exemplified herself as a supportive and responsive leader, ensuring the program works to improve the quality of care through their active participation in Learn & Grow. Their quality activities have focused on staff development. All staff are enrolled in Alaska SEED and either have obtained or are working on their CDA, as well as building appropriate and responsive environments that are stimulating, engaging and intentional. Recently more multicultural and science related curriculum was incorporated into the preschool classroom while designated interest centers were introduced in the infant/toddler classroom.

(Pictured from left: AEYC-SEA Executive Director Joy Lyon, thread COO Melinda Myers, thread Board President Sen Tan, Denali Preschool Program Administrator Deena Cook, and thread Northern/Interior Assistant Director Stacie Dublin.)
Awards sponsored by: