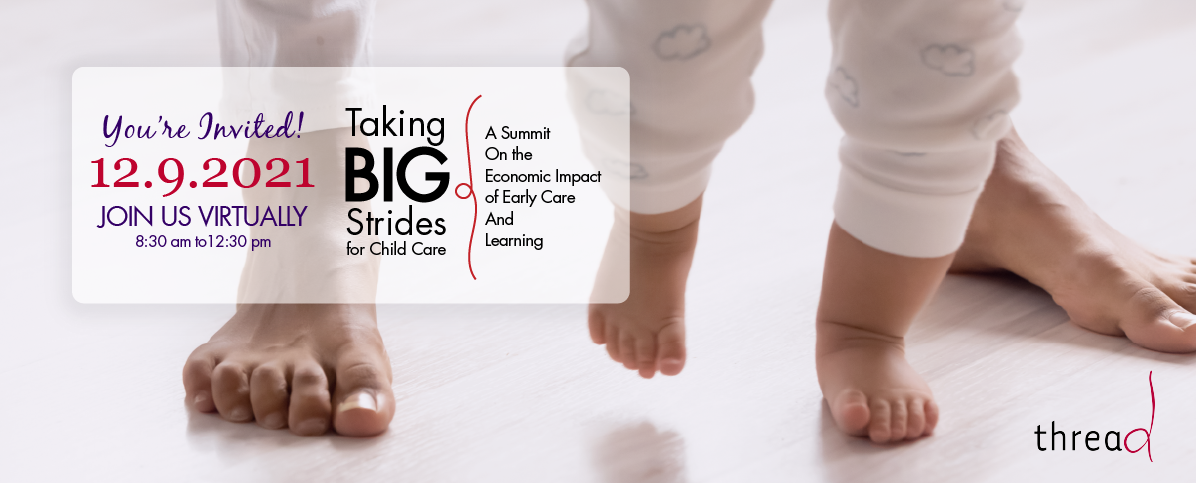 Summit Agenda
Thursday, Dec. 9, 2021
8:30 am
Welcome | Introduction
---
9 am
First-look at the Untapped Economic Potential in Alaska
Presenter: Aaron Merchen, U.S. Chamber of Commerce Foundation
Not all families are able to secure the child care they want or need. Earlier this year, the US Chamber of Commerce Foundation (USCCF), in partnership with the Alaska Chamber, looked at how much breakdowns in child care cost states and what solutions could help parents. Don't miss this exclusive, first-look at the untapped economic potential in Alaska.
---
9:30 am
Child Care in Alaska Today & the Opportunity to Build Back Better with BIG Strides in Accessibility, Affordability, Quality
Presenters: Stephanie Berglund, CEO, thread | Harriet Dichter, Consulting Director, Early Education Services, Child Care State Capacity Building Center
Now is the time to re-imagine child care in Alaska. From access to affordability to workforce, "Build Back Better" means thinking BIG for innovative child care solutions and strategies with public and private partnership. Learn more about Alaska's child care system during COVID and today's opportunities.

---
Spark Speech 1: BIG Strides – New Mexico Child Care Reform
Presenters: Michael Padilla, State Senator, New Mexico | Elizabeth Groginsky, Cabinet Secretary for Early Childhood Education, New Mexico
Get the inside story on how the state of New Mexico is taking BIG strides for an equitable and inclusive child care system, from state governance to subsidies to quality to collaborative partnerships.
Video 1: Alaska's Opportunities in Action

---
Spark Speech 2: Small strides to BIG change – Preschool for All in Multnomah County, OR
Presenter: Jessica Vega Pederson, Commissioner, Multnomah County, Oregon
Commissioner Pederson will inspire us to think BIG about universal preschool as she shares lessons learned from the years-long campaign "Preschool for All," and the key elements to a successful community solution.
Video 2: Alaska's Opportunities in Action
---
Spark Speech 3: A Collective Stride: Reimagining Child Care with More Partnership
Presenter: Grace Reef, President, Early Learning Policy Group, LLC
This speech will spark ideas for what types of partnerships are possible with current and future funding. Listen to stories from across the country where business and government are thinking BIG to make change for communities, working together!
Video 3: Alaska's Opportunities in Action
---
11:30 am
Breakout: How BIG is your stride for child care?
Facilitated by Margo Fliss, Manager of Strategic Engagement, Center for Economic Development & thread Board Member
Connect with your break out group for this interactive session. We can Build Back Better in Alaska and you can be a champion for how we do it!
---
Action | Special Drawing | Close
Jonathan King, Founder, Halcyon Consulting Group & thread Board Member
Stick around! Be present to win during our special drawing!
---
Our Champions
Superheroes
Supporters
Mover & Shakers
Best Friend