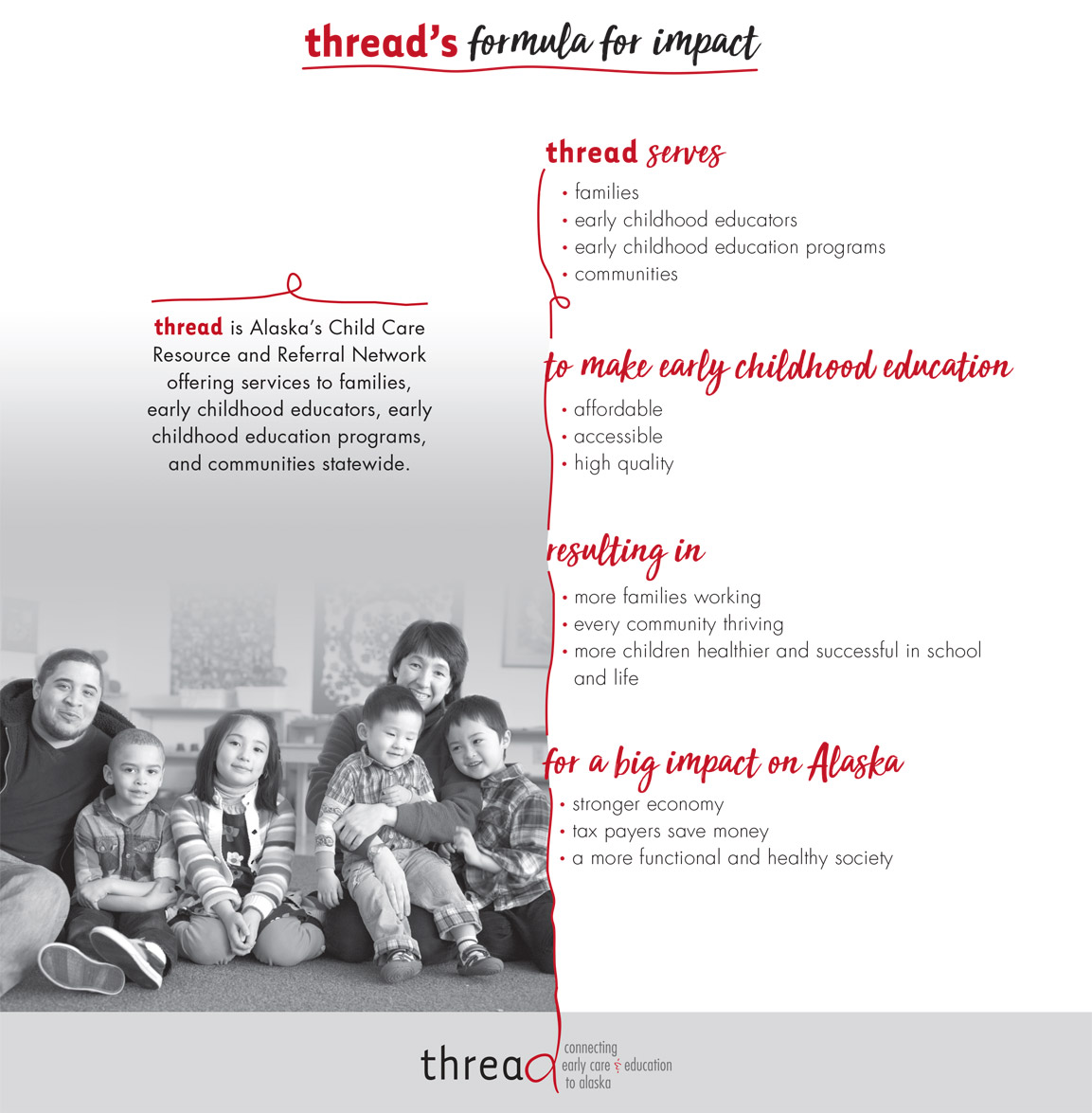 What We Do
thread works to increase access to affordable, high-quality early care and education for Alaska's children. We do that by providing direct services for families, educating early childhood professionals, and collaborating with our communities. thread is driving change through special projects and advocacy. We join with other early childhood supporters to advocate at the local, state, and national levels to promote policies that increase access to affordable, high-quality early childhood education programs for all Alaska families.
Special Projects
thread works with partners on special projects throughout the state of Alaska to further our mission. Some of this work includes:
Safe Sleeping for Alaska's Babies Campaign: In 2012, the Safe Sleeping for Alaska's Babies Campaign replaced outdated cribs in early childhood
education programs throughout Alaska with new products meeting national safety standards. It also raised awareness of safe sleep practices in programs throughout the state.
Obesity Prevention Initiative: This ongoing initiative assists early childhood education programs in reducing childhood obesity by helping children build healthy habits. The initiative places an emphasis on improving practices involving nutrition and physical activity which align with the national Nutrition and Physical Activity Self-Assessment for Child Care (NAP SACC) program.
Happy, Healthy Babies: In 2014-2015, this initiative assisted early childhood education programs in creating an environment that supports breast feeding.
The ABC Project: The Art By Children (ABC) Project was a collaboration between the Alaska State Council on the Arts and thread to bring together local artists and early childhood education programs from across the state.
The Summit on the Economic Impact of Early Care & Learning: This biennial event brings together Alaska business leaders, medical professionals, policy makers, and community members to explore and discuss the economic impact the early childhood education industry has on our state. Learn more.
Advocacy
Throughout Alaska, 38,000 children under the age of 6 have working parents. In order for parents to work, many depend on child care. Yet, in too many communities, child care is difficult to find, more difficult to afford, and too often of questionable quality. thread is working with communities and policymakers across Alaska, to help bring high-quality early childhood education environments to children and families across the state. Join us.
The Children's Place
The Children's Place is a partnership between thread and the Alaska State Department of Labor and Workforce Development. Located in Anchorage, it is managed by thread for the purpose of providing child care services to Alaska Temporary Assistance Program recipients, applicants, and others using the services of the Gambell Job Center. It is a model program and the only one of its kind in the state that offers child care services at a local job center. Job seekers at the Gambell Job Center have a safe place for their children to be while researching and using employment resources at the center. Visitors to the Gambell Job Center are also provided child care referral information.