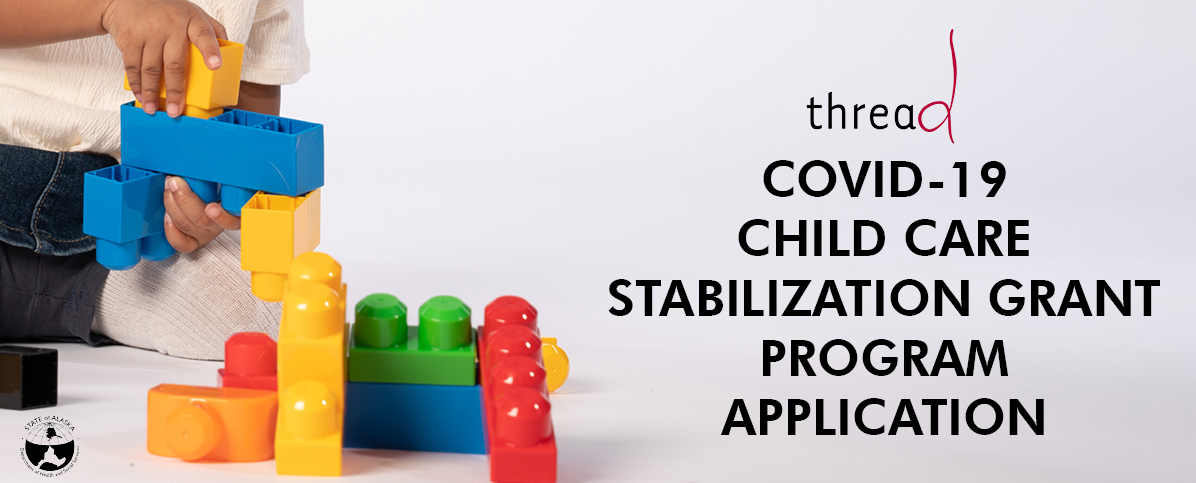 Overview &
Apply Now
Grant Application Period: September 1 – December 31, 2021
thread is excited to be partnering with the State of Alaska Department of Health and Social Services Child Care Program Office (CCPO) to assist with administering the first phase of the American Rescue Plan Act (ARPA) funding for licensed child care.
Here you'll find general information about this grant opportunity as well as links to helpful resources to complete the grant application process.
---
What is the American Rescue Plan Act (ARPA) Child Care Stabilization Fund?

The Biden Administration's American Rescue Plan Act (ARPA) is a federal stimulus program that includes significant funds for states, territories, and tribes to address the national child care crisis caused by COVID-19. This funding gives states, territories, and tribes the resources and opportunity to address the financial challenges faced by child care providers during and after the COVID-19 public health emergency and the instability of the child care market as a whole.
What does this mean for Alaska child care programs?

In Alaska, thread is partnering with the State of Alaska Department of Health and Social Services Child Care Program Office (CCPO) to assist with administering the first phase of ARPA funding. The CCPO is the lead agency distributing the funds and thread is the intermediary. As the intermediary, thread is overseeing the grant application and check disbursement processes. Child care programs are the beneficiaries of this funding.

The first phase of child care stabilization grants will total 5 million dollars for the purposes of immediate relief, with additional grant opportunities soon to follow for long-term stabilization.
What is the program grant amount in phase one?

Phase one grant amounts for eligible child care programs will range from $5,500 to $11,500, based on the program type and licensed capacity.
Who is eligible?

This is not a competitive grant process. All eligible child care programs will receive the phase one COVID-19 Stabilization Grant by successfully completing the application process.

The following program types are eligible to apply for the stabilization grant.

Licensed Child Care Center
Licensed Group Home
Licensed Family Child Care
Licensed Afterschool/School-age Program
Approved Relative or In-Home Care approved on or prior to March 11, 2021 and at the time of application

Eligible program types must be open or temporarily closed planning to reopen.
What is the grant application period?

The phase one grant application period is September 1, 2021 to December 31, 2021.

For programs unable to submit the application prior to December 31, 2021, please contact thread for assistance by emailing: [email protected]
What does the application process involve and is application help available?

The application process is designed to be as simple as possible, while still meeting federal guidelines. Please note that federal guidance requires specific information be gathered in the application process. The application needs to be completed in its entirety. Information provided on the application is confidential.

The following information is needed to complete the application in its entirety. This information should be gathered before beginning the application process.

Child Care License (for facility type, licensed capacity)
Business License (for legal business name)
State of Alaska CCPO letter or notice displaying the program ICCIS (Integrated Child Care Information System) number
Completed IRS Form W9 (Important note: The W9 is only required if the program did not receive thread's COVID-19 Quality Initiative 2 funding.)
Current capacity and desired capacity
Total monthly program expenses (this is the monthly sum of all program expenses such as mortgage/rent, utilities, personnel, insurance, family support, supplies, food, materials)

Get Application Help! Before starting an application, click here for written and video instructions on how-to prepare and complete the application. thread will also be conducting training webinars to provide an overview of the application process, followed by a live Q&A opportunity. Please check thread's Training Calendar for scheduled dates and times.
What can the grant be used for?

The grant can be used for one or more of the following purposes:

COVID-19 related expenses incurred between January 31, 2020 — March 11, 2021
Rent or mortgage, utilities, facility maintenance and improvements
Personnel costs, benefits, premium pay, recruitment, retention
Personal Protective Equipment (PPE), cleaning and sanitation supplies and or updates to equipment and supplies to respond to COVID-19
Goods and services necessary to maintain or resume child care services
Mental health supports for children and employees
Investment in technology to respond to COVID-19 challenges
What is the grant processing time?

The grant payment will be processed within 60 business days after a complete application has been received and approved by thread.